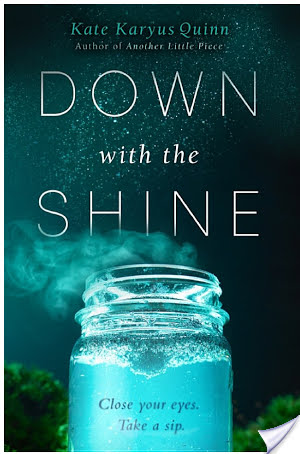 Down with the Shine
by
Kate Karyus Quinn
Published by
HarperCollins
on April 26th 2016
Goodreads
Think twice before you make a wish in this imaginative, twisted, and witty new novel from the author of Another Little Piece.
When Lennie brings a few jars of her uncles' moonshine to Michaela Gordon's house party, she has everyone who drinks it make a wish. It's tradition. So is the toast her uncles taught her: "May all your wishes come true, or at least just this one."
The thing is, those words aren't just a tradition. The next morning, every wish—no matter how crazy—comes true. And most of them turn out bad. But once granted, a wish can't be unmade . . .
I received this book for free from ALA Midwinter Conference in exchange for an honest review. This does not affect my opinion of the book or the content of my review.
What a lovely little surprise this book was! I picked this up at ALA Midwinter, based solely on the cover and a super quick glance at the synopsis. But I'm so glad I picked it up! If you follow me on Goodreads, you may know that this book hooked me from the beginning. Just a few pages in, and I found myself going, "WHAT THE HECK IS GOING ON?????" I was so excited to see what would happen next and where this adventure would take me.
My excitement did die down just a little bit as I was reading, but I still thoroughly enjoyed every minute of this book. The main character, Lennie, comes from a long line of people with a very special talent – with the help of a little moonshine, they can grant wishes. Sounds really cool, right? It is, until Lennie accidentally grants some interesting wishes and ends up with a lot more than she bargained for. The majority of this book takes place over the course of a whirlwind 24 hours, in which Lennie, her friends, and her uncles are desperately trying to fix the mess she made. As they learn the hard way, no wish can be un-wished, so they have to get creative when finding a solution.
One thing that I loved about Down with the Shine was that it had a grittiness to it. There was death and destruction and violence that I totally didn't expect to find when I picked it up. The synopsis of this book doesn't hint at all that there is darkness to this story. It completely took me by surprise and I loved it! Just when I would get comfortable with the story and think everything was going to be alright, BAM, someone got stabbed or lit on fire or turned into a yummy snack (I'm not kidding, read it and you will know what I am talking about).
All in all, I really enjoyed Down with the Shine, and I highly recommend it if you are looking for something fun, fantastical, and a little dark. It was one of my favorite reads this month, and I think I might check into some of Kate Karyus Quinn's other books. If they are anything like Down with the Shine, I think they would be great for getting myself out of a reading slump. Down with the Shine was released last week, so head to your bookstore or library and check it out! And let me know what you think when you're finished!
_________________________________________________________
When you are pleasantly surprised by murder and mayhem…..
…..blame it on the books.