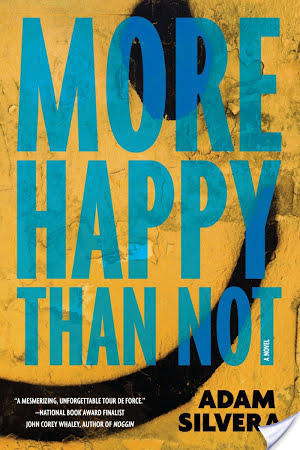 More Happy Than Not
by
Adam Silvera
Published by
Soho Press
on June 2nd 2015
Goodreads
In his twisty, gritty, profoundly moving New York Times bestselling-debut—also called "mandatory reading" and selected as an Editors' Choice by the New York Times—Adam Silvera brings to life a charged, dangerous near-future summer in the Bronx.
In the months after his father's suicide, it's been tough for sixteen-year-old Aaron Soto to find happiness again—but he's still gunning for it. With the support of his girlfriend Genevieve and his overworked mom, he's slowly remembering what that might feel like. But grief and the smile-shaped scar on his wrist prevent him from forgetting completely.
When Genevieve leaves for a couple of weeks, Aaron spends all his time hanging out with this new guy, Thomas. Aaron's crew notices, and they're not exactly thrilled. But Aaron can't deny the happiness Thomas brings or how Thomas makes him feel safe from himself, despite the tensions their friendship is stirring with his girlfriend and friends. Since Aaron can't stay away from Thomas or turn off his newfound feelings for him, he considers turning to the Leteo Institute's revolutionary memory-alteration procedure to straighten himself out, even if it means forgetting who he truly is.
Why does happiness have to be so hard?
"Silvera managed to leave me smiling after totally breaking my heart. Unforgettable."—Becky Albertalli, author of Simon vs. The Homo Sapiens Agenda
"Adam Silvera explores the inner workings of a painful world and he delivers this with heartfelt honesty and a courageous, confident hand . . . A mesmerizing, unforgettable tour de force."—John Corey Whaley, National Book Award finalist and author of Where Things Come Back and Noggin
From the Hardcover edition.
Be still, my heart. Adam Silvera, will you marry me? (Ok, I know this isn't going to happen, but there's no harm in trying, right?) I have definitely found one of my new favorite authors in Adam Silvera and I am dying to get my hands on more of his writing immediately.
In case you haven't guessed already, I LOVED More Happy Than Not. I am not typically a fan of contemporary, but the sci-fi twist to this novel really drew me in. More Happy Than Not tells the story of Aaron, a New York City teen who is gay, and living in a community where he knows that he will not be accepted the way he is. Enter the Leteo Institute, a company that promises to erase painful memories so people can move forward. Aaron has led a hard life, and survived multiple traumatic experiences, and he therefore decides that if he can just forget that he is gay, life would be so much easier.
Let's talk about the plot twist in this book for a moment. HOLY. COW. It was like a plot twist within a plot twist and it totally threw me for a loop. From about the halfway point of the book straight through to the end, I didn't stop crying. I was just a big puddle of tears. AND THEN THE ENDING. What are you trying to do to me, Adam? I thought we were friends? Why'd you have to go breaking my heart like that? The ending was beautifully written, but it tore my heart to pieces and I am still recovering. I think it is going to be a while before I am ready to pick up another cry-worthy book – I'm still too vulnerable right now.
What a poignant message this book sends. It takes the notion that being gay is a thing that can be "cured" and throws it right back in our faces in such a beautiful way. It shows us that no matter what you do, you are who you are, and that's ok. This book brings LGBTQ issues to light in particular, but I can see this message affecting people in all different walks of life; those suffering with depression, mental health issues, disabilities of any kind – to a certain degree, everyone has felt at some point that everything would be better if only this was different, or that could be fixed. More Happy Than Not shows us that there is always something to smile about and someone who loves us just the way we are.
So, to sum things up, my review of More Happy Than Not is a total rave. Read it. Love it. And if you happen to see Adam, tell him I love him….and then hit him for breaking my heart like that.
_________________________________________________________
When you are more happy than not…..
…..blame it on the books.