Sunday Street Team was created by the amazing Nori at ReadWriteLove28. To sign up to join the team, click here.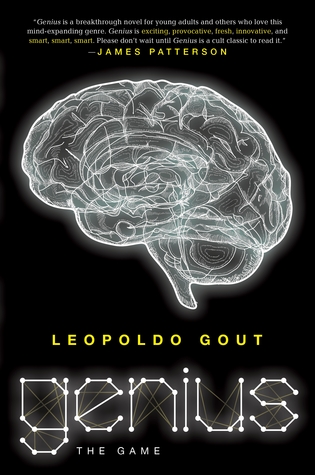 Genius by Leopoldo Gout
Published by Macmillan on May 3rd 2016
Goodreads

Trust no one. Every camera is an eye. Every microphone an ear. Find me and we can stop him together.
The Game: Get ready for Zero Hour as 200 geniuses from around the world go head to head in a competition hand-devised by India's youngest CEO and visionary.
The Players:Rex- One of the best programmers/hackers in the world, this 16-year-old Mexican-American is determined to find his missing brother.Tunde-This14-year-old self-taught engineering genius has drawn the attention of a ruthless military warlord by single-handedly bringing electricity and internet to his small Nigerian village.Painted Wolf-One of China's most respected activist bloggers, this mysterious 16-year-old is being pulled into the spotlight by her father's new deal with a corrupt Chinese official.
The Stakes: Are higher than you can imagine. Like life and death. Welcome to the revolution. And get ready to run.
I received this book for free from the publisher in exchange for an honest review. This does not affect my opinion of the book or the content of my review.
Review:
I am so glad I signed up to be part of the Sunday Street Team for this book! What a fun ride it was! Genius tells the story of three teen geniuses who are thrown into a competition run by one of the world's youngest CEOs and visionaries. They have no idea what they are getting themselves into when they join this competition, however, and chaos (and sometimes hilarity) ensues.
My favorite thing about this book is how different it is from everything I am used to reading. I love science and math, but I don't indulge in books about those topics very often. And even within the YA genre, science fiction books don't always necessarily delve into the actual science. Genius included mathematical equations and discussions of everything from hacking and coding to solar panels and the inner workings of bugs. Yes, there were times when I didn't understand what the characters were talking about at all, but I still really appreciated these parts of the story and respected their place in the plot.
I also absolutely loved the characters in this story. Tunde was absolutely adorable and I just wanted to squeeze him most of the time. And Painted Wolf was so cool! She was completely tough and badass, but she also had a vulnerable side. There were also parts of this book that made me absolutely laugh out loud. I'm not sure if that was the author's intention, but I was almost crying from laughing so hard. (If you have read this book and have met Charlie, you might know what I am referencing.) It was so refreshing to have these comical scenes thrown into a book that also deals with some heavy topics.
I think the only thing that bothered me a little about this book (and this is a really small criticism) was the random Nigerian that was thrown in. Tunde would randomly throw in some Nigerian slang (which makes sense, because he is Nigerian), but there was no explanation of what the heck he was talking about. And none of the characters thought to ask, "Hey, dude, what does that mean?" I understand why the language is in the book, but I wish it had been handled a little differently, so I wasn't left wondering what Tunde was saying half the time.
I read this entire book thinking it was a standalone (oops), so I was completely shocked by the ending. Even after realizing that this will be a series, I find myself dying to know what is going to happen next. I will definitely be picking up the next book so I can follow the adventures of Rex, Tunde, and Painted Wolf. I need to know what happens to them!
I am not sure this book is for everyone, because I think the science and math talk will turn some people off. But I highly recommend that you give it a try, and don't get discouraged by the things that you might not understand. Genius is a fun adventure that keeps you guessing and drags you into the story so you feel like you are a part of the action. Give it a try and let me know what you think!
About the Author:
Leopoldo Gout is the producer behind many films including Days of Grace, which A.O. Scott of the New York Times called "a potent and vigorous film." He is also a writer, artist, and filmmaker. Leopoldo is currently involved in various film and television projects including major adaptations of the Alex Cross series, with the author James Patterson and the upcoming film adaption of Middle School: The Worst Years of My Life.
Can you handle The Game?
Now it's your turn to participate in The Game.
Your mission: Visit all of the SST blogs this month to collect the words that will make up a quote.
My words:
___ ___ ___ ___ ___ ___ ___ ___ ___ ___ ___ ___ ___ ___ ___ ___. ___, ___ ___ ___ ___ ___ ___, ___ ___, "___ ___ ___ ___, ___ ___. ___ ___ ___ ___ ___ ___ ___ ___ ___ ___ ___ ___ ___ ___ ___ ___ ___ can wake ___ ___ ___ ___ ___ ___ ___."
Now the rest is up to you. Visit all the blogs below to complete the quote. The fate of the blog-o-sphere is resting on your shoulders. (Not really, but it's fun to pretend, right?)
The Schedule
And of course, a giveaway!
_________________________________________________________
When you join the Sunday Street Team…..
…..blame it on the books.